Kathy Faison
For many, the benefit of health insurance is peace of mind in case something catastrophic happens. For Lee County resident Kathy Faison, it did.
"If it had not been for that health insurance policy, I would have died," she says.
A human services worker by trade, Kathy has dedicated her professional life to serving others. She was a social worker and qualified substance abuse counselor and even ran a shelter for runaway youth. She loved her job and never dreamed of leaving it until she had to.
In 2020, Kathy started having falls at home and work. She was diagnosed with peripheral neuropathy, which causes numbness and discoordination of the hands and feet. Though it is usually caused by diabetes, Kathy's is not. As she went from specialist to specialist for help, her condition worsened.
Though her employer extended her leave and worked diligently to preserve her employment, they laid her off with a heavy heart. Kathy claimed disability.
"I was in the middle of a health crisis, and I didn't have health insurance," says Kathy, who was also carrying her husband on her employer-sponsored policy.
Never having had to shop for coverage, Kathy had to find an affordable health insurance policy quickly. She was unsure where to start, so she reached out to the NC Navigator Consortium. Kathy connected with health insurance navigator Holly Powell, who spent hours on her case.
"I couldn't have asked for more support and assistance," says Kathy. "Holly helped me learn the process and weigh the cost and benefits of each plan. The premium was manageable, and I was grateful."
By the following March, Kathy was progressing with her neuropathy when she had another setback. One night she became violently ill, losing most function in her extremities. She stayed in the hospital for five weeks, followed by extended inpatient and at-home nursing care.
"I have some outstanding out-of-network medical bills to pay, but my insurance covered more than $500,000," Kathy says. "While the policy isn't perfect, insurance gave me the care and medication I required, and it covered the beginning of the physical therapy I needed."
A year after she lost her job, Kathy qualified for advance premium tax credits and cost-saving reductions through the American Rescue Plan, resulting in a health plan with a $0 deductible for $22 per month. When Kathy was laid up in a nursing home, Holly did it for her by phone.
"Holly is great," says Kathy. "She keeps up with me and is even giving me the information I need to start Medicare while helping my husband stay on our plan until he is eligible."
Kathy's health trials are far from over, but she is thankful for the support of her family. After a life of service to others, Kathy is thankful for people like Holly who are committed to helping her.
Kathy Faison
---
Jill Newbold
For several years, Chapel Hill resident Jill Newbold worked at an organization that recruited angel investors for companies that had a positive social impact. In July 2020, with the onset of COVID-19, she lost that job and the employer-sponsored health insurance that went with it. She bridged her health insurance through COBRA for one month, but the cost was unsustainable.
"I made the choice to get health insurance through the Health Insurance Marketplace, but it wasn't easy psychologically," says Jill, who admits she thought HealthCare.gov was only for the economically disadvantaged. "There is a lot of stigma and misinformation out there."
Jill cannot remember how she learned about the NC Navigator Consortium, but she's glad she did. While she feels like she can navigate the Health Insurance MarketplaceⓇ without help, health insurance navigator Donna Rasmussen has been an important resource. Donna has helped Jill get the most out of HealthCare.gov as her income and circumstances have changed.
"Donna is incredibly patient with a process that is clunky and bureaucratic," says Jill. "She knows the ins and outs and has helped us understand and evaluate our options."
In addition to helping Jill navigate their variable income situation, Donna helped Jill make appropriate policy changes when their adult children moved to a university-sponsored plan and employer-based policy.
Finding affordable health coverage on the Marketplace has enabled Jill to become an entrepreneur. Her family's love of scuba diving inspired Jill to start a performance water apparel company called LoPo Diveskins which makes dive skins, rash guards, and leggings out of plastic bottles at risk of ending up in the ocean. Jill's husband is working for a small company he joined in 2022.
"The savings Donna helped us secure on HealthCare.gov have allowed us to pursue the careers we want instead of having to search for and secure a corporate job just for the health insurance," adds Jill. "We have the professional freedom we want with the financial flexibility and peace of mind we need."
Jill Newbold
---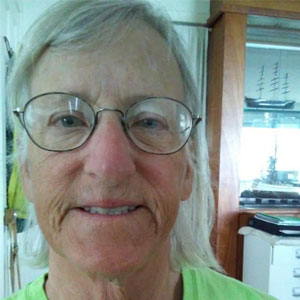 Jan Willis
Jan Willis is originally from Carteret County on North Carolina's coast. She moved away as a young woman to attend college and begin working in Raleigh and always had her own health insurance. She met her husband and moved back in 1989, all while helping him with his farm in Johnston County.
After holding onto her health insurance policy for years, Jan learned it was being discontinued by the insurance company in 2018. She knew she needed a new policy and that HealthCare.gov was the best place to find one, but she was afraid of completing the application incorrectly. She saw an article in her local newspaper about the NC Navigator Consortium and made an appointment. She has been using health insurance navigators ever since.
"Honestly, every year I dread Open Enrollment, but I am reassured that the navigator is going to give me the help and answers I need," Jan says.
Jan was working with navigator Holly Powell, who saved her $866 per month in 2022 by using advance premium tax credit made possible through the American Rescue Plan. Even though Holly moved to Southern Pines, Jan continued working with her by phone or via Zoom.
"Holly is absolutely wonderful," Jan says. "I feel my information is secure and I trust her."
This September, Jan will qualify for Medicare. While she's not sure what to expect, she knows she can count on Holly and her team of health insurance navigators. Holly has referred Jan to three different organizations that can help, and will assist Jan in discontinuing her policy on HealthCare.gov when the time is right to prevent any gaps in coverage.
"I have been healthy all my life," explains Jan. "When your family and friends have things happen to them and you see the cost, it's scary. If I didn't have health insurance, one illness could wipe out whatever money I have saved."
For Jan, health insurance is peace of mind and the NC Navigator Consortium helped her find it.
Jan Willis
---
Jesse Wemberly
Raising a son with type one diabetes, Jesse Wimberley is no stranger to the high cost of healthcare. Diagnosed at seven years old, Jesse's son had to manage multiple insulin injections each day which was expensive and burdensome. Jesse was a big fan of the Affordable Care Act, which made it possible for him to find an affordable health insurance policy for his whole family on the Health Insurance Marketplace® at HealthCare.gov. Today his son is a healthy adult because Jesse was able to get him the care he needed to get his diabetes under control.
Jesse would never dream of doing without health insurance, but in 2018, the unthinkable happened. Jesse's healthcare provider lost his address, resulting in his health insurance coverage being dropped. Jesse became distressed as he searched for months trying to find a way to access affordable health insurance.
"It was so frustrating," Jesse said. "I was making too much to qualify for anything and not enough to pay for anything."
One night Jesse began experiencing acute kidney pain. Reluctantly and without insurance, he went to the emergency room. After multiple tests, Jesse soon found out he had kidney stones that were only treatable with over-the-counter pain relief. By the time he left the emergency room, all Jesse had was $12,000 of medical debt that he's still paying.
Finally, Jesse found the NC Navigator Consortium and connected with health insurance navigator Holly Powell. Holly worked tirelessly to find Jesse a coverage plan that made sense for him.
"I went into the meeting with low expectations," Jesse said. "However, my experience with Holly was so outstanding. Working with a navigator made everything so simple and she found a plan that worked for me."
Holly's hard work paid off in a big way for Jesse. She found a policy for him on the Health Insurance Marketplace® at HealthCare.gov that brought his monthly cost down substantially. He went from paying $450 a month for a plan that did not cover much to $333 a month for a plan that covers everything he needs.
"It was just a huge feeling of relief to be able to get what I needed," Jesse said. "Without health insurance you start putting appointments off. Now, I am free to be proactive about my health which has had a positive effect on my mental health as well."
Jesse was reminded how terrifying life can be when your or a loved one's health spirals. With the help of Holly and the NC Navigator Consortium, Jesse was able to get his healthcare back on track which truly changed how he lives his life.
Jesse Wemberly